Emily Yu, B.Sc (Hon), D.Ch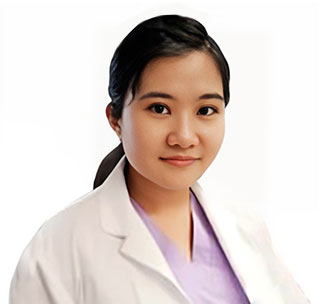 Emily Yu, B.Sc (Hon), D.Ch
Emily graduated from the University of Toronto with a Bachelor of Science degree with honours. After her undergraduate studies, she went on to pursue a career in Chiropody at the Michener Institute for Applied Health Sciences. The experience she has acquired through years of practice has provided Emily with a solid foundation in treating different foot ailments.
Emily is passionate about treating patients in an individualized and holistic manner based on what he or she needs to get back on their feet. She believes that good patient and practitioner interactions are important in fostering a healthy environment for recovery and maintaining wellness. Emily is a very dedicated individual and passionate about her job as a chiropodist. As such, she will strive to do her best to help each patient put their best foot forward. Emily is fluent in English, Mandarin and Cantonese.
Marie Fragakis, D.Ch
Marie Fragakis, D.Ch
Marie graduated from Western University with a Bachelor of Science with Honors Specialization in Kinesiology with distinction. Following her undergraduate degree, Marie studied Chiropody at the Michener Institute for Applied Health Sciences.
Marie is dedicated to providing detailed attention to ensure patient footcare needs are met with a high level of satisfaction. Her chosen field of Chiropody supports her desire to work with patients to improve mobility, alleviate foot pain, provide health education and improve quality of life. Marie is fluent in English.
Ryan Jenah, B.A, D.Ch
Ryan Jenah, D.Ch
Ryan graduated from York University with a Specialized Bachelor of Arts in Kinesiology and Health Science. After fostering a passion for health care and working together with people to better their well-being, Ryan chose to study Chiropody at the Michener Institute. Having experience in both the public and private sectors, Ryan has gained invaluable knowledge and experience necessary to create a holistic management plan that puts the patient first. Ryan is fluent in English.
Steve Romero, D.Ch
Steve Romero, D.Ch
Steve received an Honours Bachelor of Science degree, from York University, where he majored in Biology. After graduation, he continued to pursue his love for science and healthcare at the Michener Institute of Education at UHN, earning an advanced Diploma of Chiropody.
Steve believes in a holistic approach to healthcare, with the main goal being improving his patient's quality of life with foot problems. His commitment to helping and connecting with patients allows him to provide high-quality foot care services to his patients. Steve is fluent in English and Spanish.
Samira Zia, D.Ch.
Samira Zia, D.Ch.
Samira is a registered chiropodist in the province of Ontario. She graduated from the Chiropody program at the Michener Institute in Toronto and holds a D.Ch. designation. She also holds a bachelor of science degree in Kinesiology from York University.
Samira has always been passionate about helping others and in sharing her expertise to improve her patients' quality of life. Her services include diabetic foot care, callus and corn removal, wart treatment, biomechanical assessments, ingrown toenail treatment, and fungal infection treatment. Samira is fluent in Dari and English.