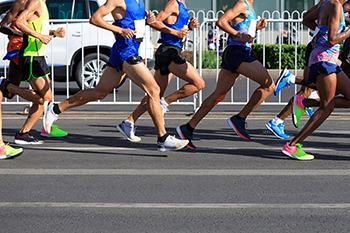 For many people, running a marathon, 26.1 miles, is the fulfillment of a longtime goal. And for others it is just the beginning. These people, who run a 50K (31.07 miles) up to 100 miles, are considered ultra runners. In both cases, protecting the feet is of paramount importance. Three main tips from running experts are wearing shoes that fit properly, managing moisture, and training the feet. Shoes can be the runner's best friend or worst enemy. Keeping your feet from moving inside the shoe is considered of vital importance. Also, shoes with ample midfoot space are recommended. Keep them laced tight, but not constricting. Breathable uppers in the shoe helps control moisture buildup. Wearing thinner (or no) socks and changing shoes and socks frequently are also a good idea. Finally, practice helps to get your feet used to distance running and to build up a resistance to blisters. If you are a distance runner, it is important to have an ongoing relationship with a chiropodist who can monitor the condition of your feet and provide further guidance on how to protect them. 
Although running is a wonderful exercise to keep you in shape, it can wreak havoc on your feet and ankles if you don't take preventive measures. If you have sustained a foot and ankle injury from running, please consult with one of the specialists from Thornhill Foot Clinic. Our chiropodists can help you maintain the health of your lower limbs and your mobility. 
Some common running injuries include:
Achilles tendonitis

Shin splints

Ankle sprains

Stress fractures

Plantar fasciitis

Bursitis 
What causes injuries? 
These injuries are usually caused by overtraining, wearing the wrong shoes, running on hard surfaces, having tight and inflexible muscles, or having biomechanical issues in the feet or ankles. 
What can I do to prevent injuries? 
Train slowly and gradually

Give yourself plenty of time to recover following a run

Wear shoes that fit properly and support your foot

Avoid running on hard surfaces, like concrete

Stretch and strengthen the muscles of your lower legs

Warm-up prior to a run

Have your gait analyzed and your feet examined by a chiropodist to determine if there are any biomechanical problems that need to be treated 
If you have any questions, please feel free to contact our office located in . We offer the newest diagnostic and treatment technologies for all your foot care needs.
Read more about Preventing Running Injuries