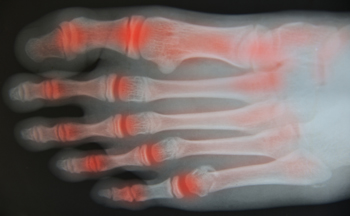 Arthritis, a complex and often debilitating condition, often affects the feet and ankles. The feet, which are made up of numerous small joints, are particularly susceptible. Rheumatoid arthritis and osteoarthritis are common culprits, causing pain, swelling, and limited mobility. The ankle joint, essential for balance and movement, can suffer inflammation and stiffness. Arthritis disrupts the normal alignment of feet, leading to changes in gait and posture. Toes may also experience deformities such as bunions or hammertoes. Effective management involves a multidisciplinary approach, combining medications and wearing custom orthotics. Arthritis may be managed by early intervention, tailored care, and lifestyle adjustments. Implementing appropriate methods can enable individuals to step forward with enhanced comfort and improved quality of life. If you are afflicted with arthritis in your feet, it is suggested that you confer with a chiropodist who can guide you toward relief techniques.
Osteoarthritis in the feet or ankles can be a painful and disabling condition that may interfere with your daily activities. If you have arthritis, please consult with one of the specialists from Thornhill Foot Clinic. Our chiropodists will assess your condition and provide you with quality foot and ankle treatment. 
What Is Osteoarthritis? 
Osteoarthritis is a condition in which the protective layer of cartilage in the joints breaks down over time. This loss of cartilage causes the bones to rub together during movement, leading to pain and inflammation. Osteoarthritis is associated with aging, and often affects the small joints of the feet and ankles. 
Symptoms
Symptoms of osteoarthritis include: 
Joint pain

Joint stiffness

Swelling in or around the joint

Restricted range of motion

Difficulty walking
Diagnosis
Osteoarthritis can be diagnosed through physical examination. You may also need to have an X-ray taken to assess the extent of the damage caused by arthritis. 
Treatment
Treatment for osteoarthritis focuses on reducing symptoms and improving the function of the affected joints. Conservative treatments include oral pain medications, orthotic devices, bracing or immobilizing the affected foot or ankle, steroid injections into the affected joint to reduce inflammation, and physical therapy. In more severe cases, surgery may be necessary. 
If you have any questions, please feel free to contact our office located in . We offer the newest diagnostic and treatment technologies for all your foot care needs
Read more about Arthritic Foot Care